30 / Aug / 2023
Acoustic lighting solutions
Acoustic lighting solutions combine aesthetics and sound control in modern interiors. These innovative luminaires, such as the HALO lamp and the CLIXX magnetic track lighting system with acoustic slats, offer both visual beauty and sound absorption. Integrated acoustic materials minimize distracting noise, promote a calm and productive environment, and adapt to various interior styles. With fire safety class A certification, they offer a complete solution that harmoniously combines function, form and safety.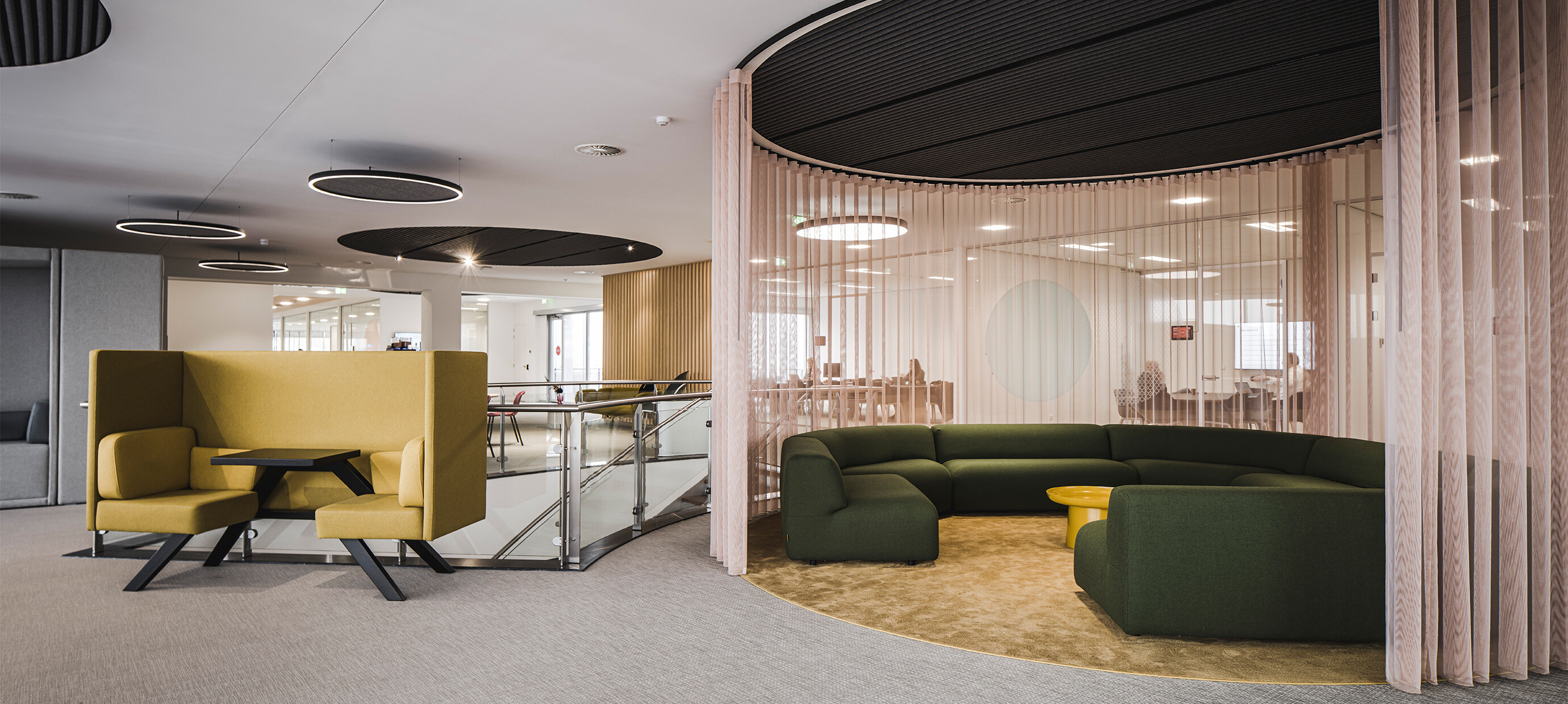 News: Acoustic lighting solutions
Lighting: Lightinova
Photography: Peter Baas
Project: Head office CM.COM
Used products:
- CLIXX SLIM magnetic track system
- HALO LED ring pendant light collection
The dynamics of interior design have undergone a shift, with traditional elements such as suspended ceilings giving way to more open and modern environments. This transition has created a challenge: maintaining a harmonious sound level without compromising the visual appeal of the space. In this era of change, acoustic lighting systems are a distinctive and beautiful solution to this. Especially in offices, consultation rooms and meeting rooms, the ability to dampen sound and the stunning aesthetics they offer is the solution.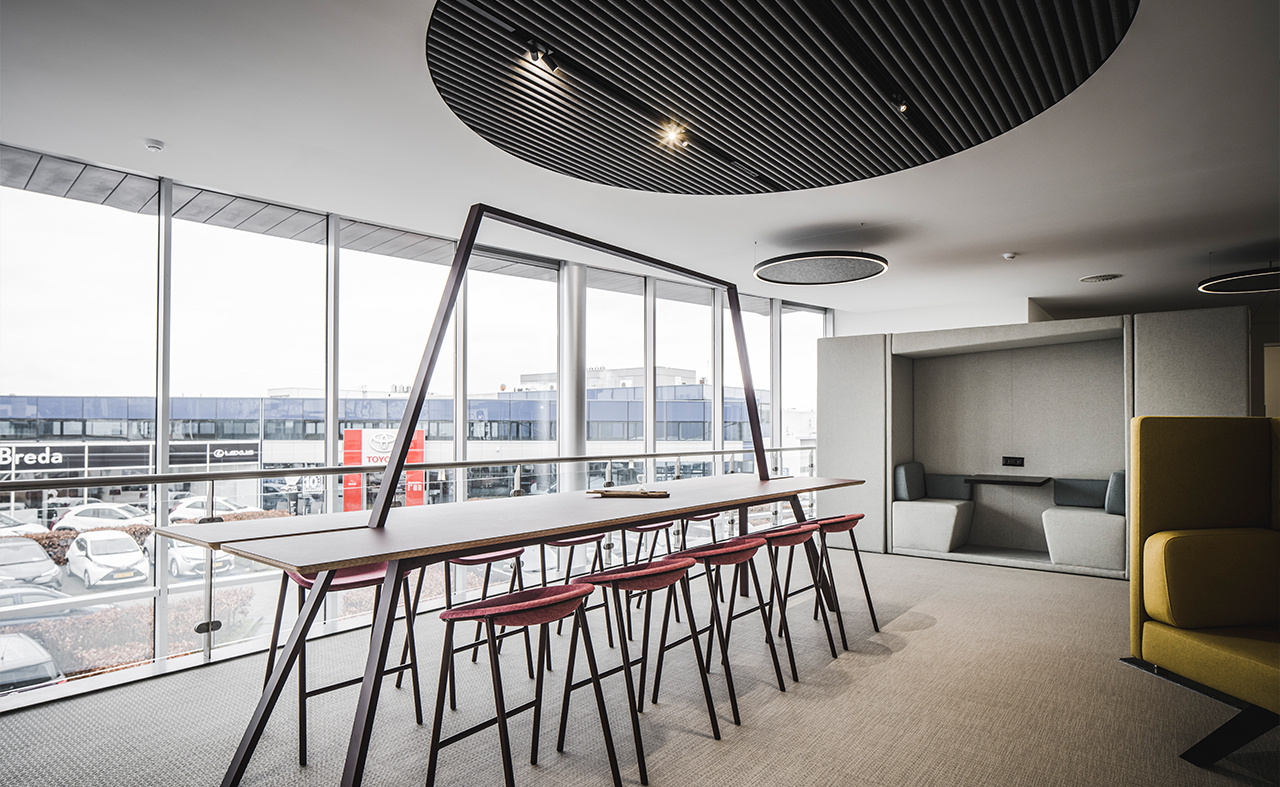 The visual excellence of the HALO lamp remains unaffected as shown in the picture, but now the whole thing is enhanced by the addition of acoustic filling. The absorbent materials are subtly incorporated into the structure of the lamp, which ensures better noise control in any room where the lamp is placed. This integration contributes to a sense of harmony and well-being, while maintaining a visually refined appearance.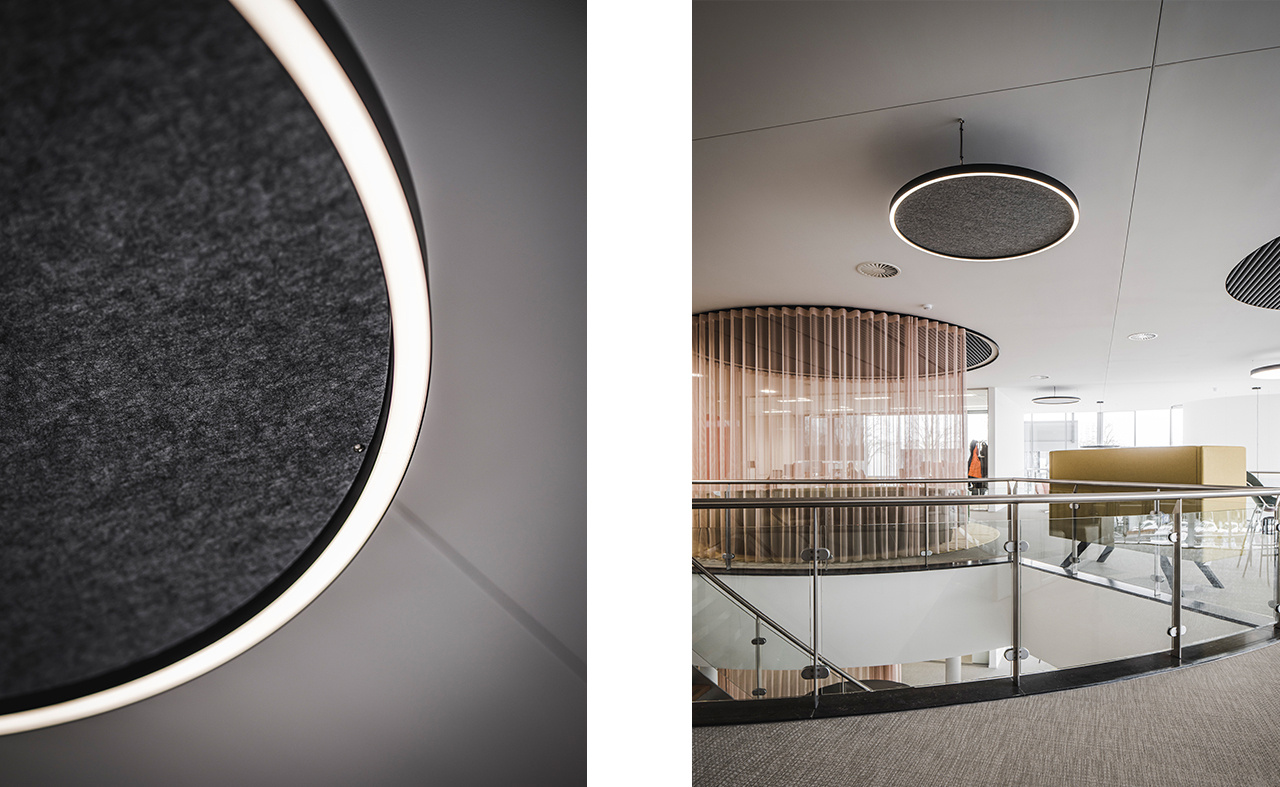 The CLIXX magnetic track lighting system in combination with the acoustic slats form a visually attractive duo that enhances the harmony and elegance of the space. This beautiful combination is brought to life in the image below, in which the CLIXX collection combines beautifully with the acoustic slats. The format of the CLIXX tracks seamlessly matches the format of the acoustic slats. The tracks also offer the possibility to place lighting where necessary.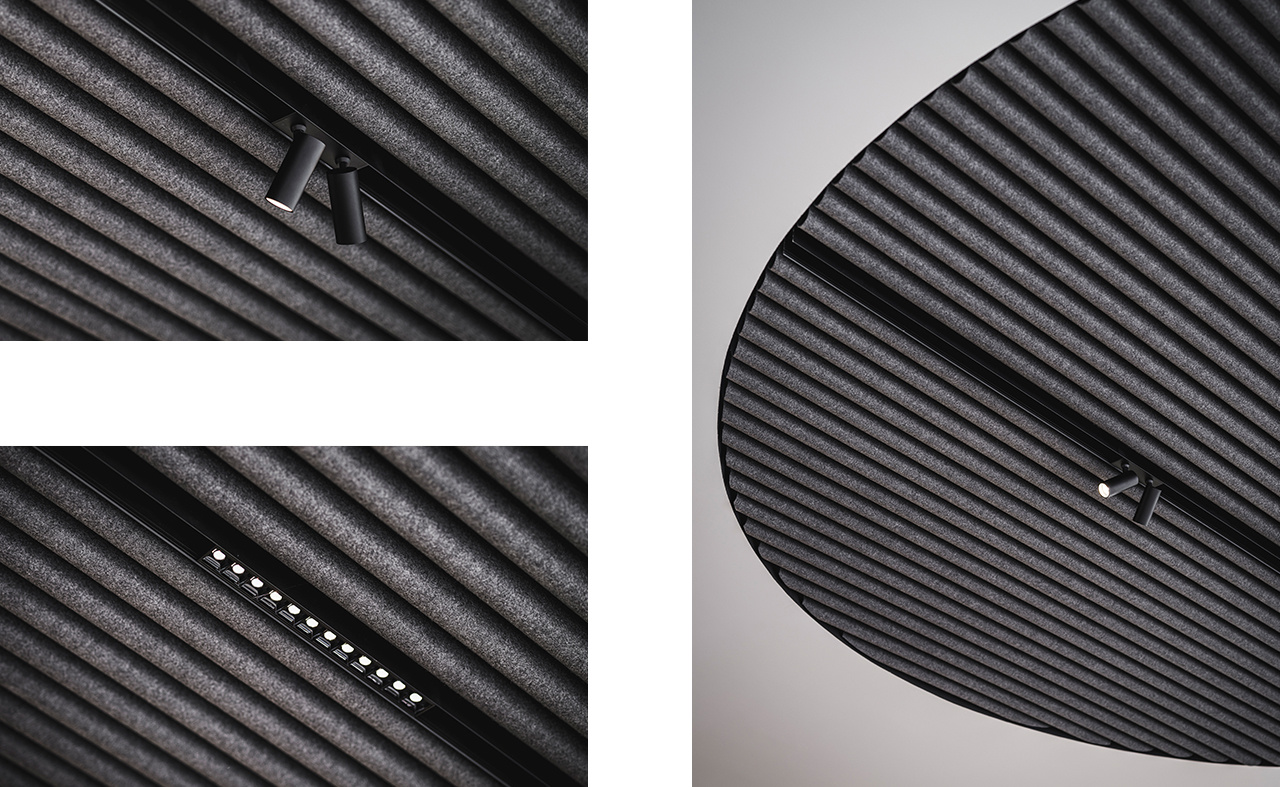 The advanced acoustic materials form a barrier against unwanted sound waves. The acoustic pet felt minimizes distracting echoes, creating an acoustic environment that is both soothing and efficient. By reducing noise pollution, these luminaires contribute to an environment that is both comfortable and productive. They create a space where thoughts can flow without being disturbed by noise chaos.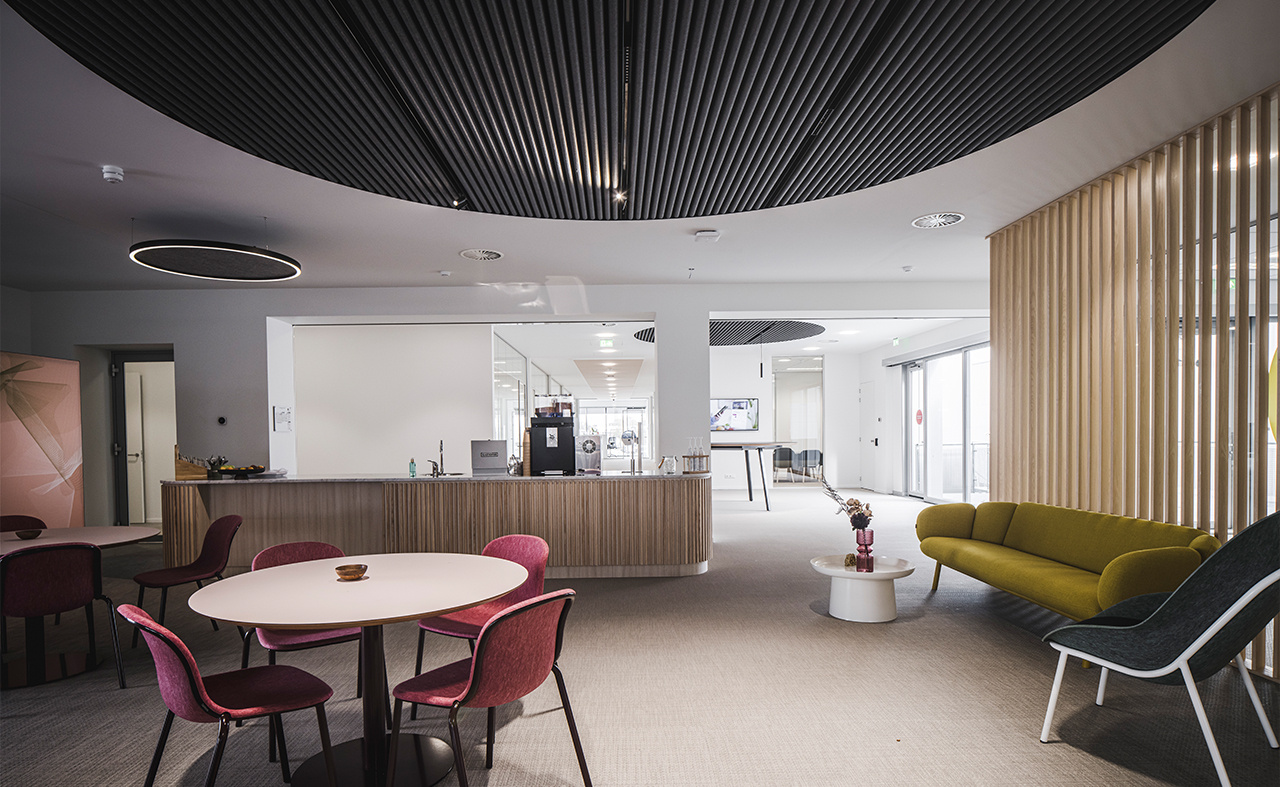 The versatility of these fixtures is another highlight. From sleek office environments to intimate catering establishments, these luminaires adapt to various spaces with ease. The acoustic material is available in many colors and can be easily processed into any desired shape. As a result, the luminaires match any interior style.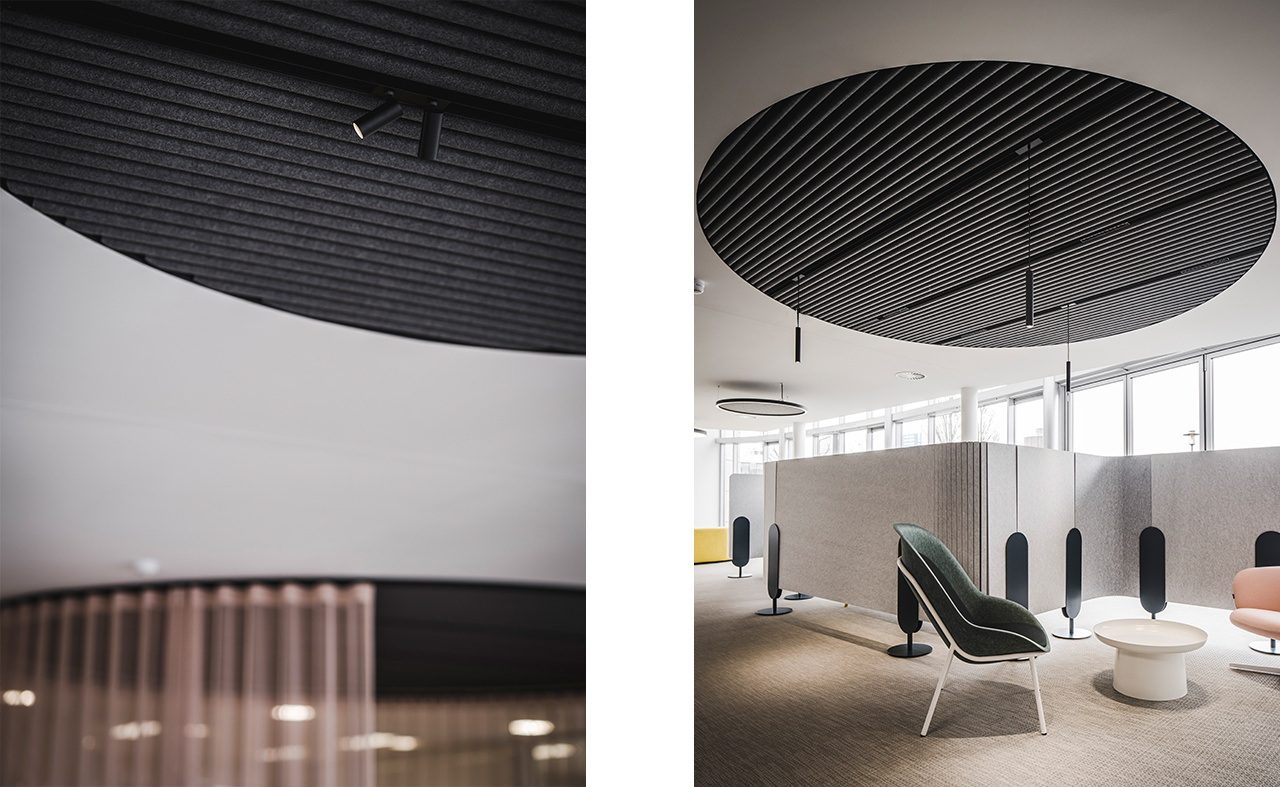 And then there is the fire safety class A. These luminaires not only have an eye for aesthetics and noise control, but also for safety. With a Class A fire safety certification, they provide peace of mind and protection, making them a comprehensive solution.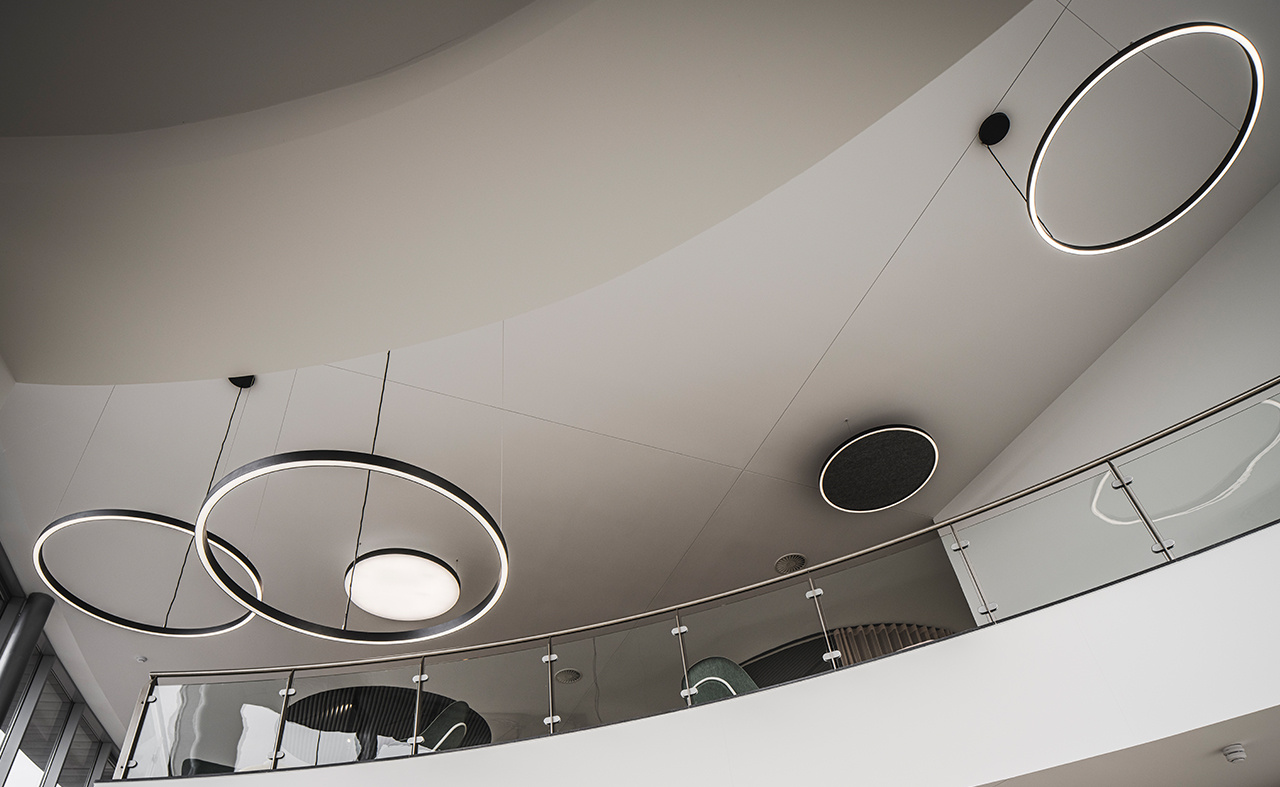 In summary, these acoustic luminaires embody a harmonious balance between function and form. They absorb sound, illuminate the environment, adapt to different scenarios, create a better living environment and even provide a safe haven. For more information about our acoustic options, please contact us.